Las Vegas Graphic Design Service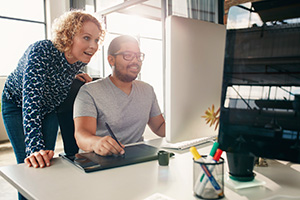 Have an idea but no one to do the work? Let us help!
One of our many talents is creative design. Let us help make the most out of your next Brochure, folder, or any printing job!
Branding your products and services
A logo not only establishes your identity, but it is also the artwork that defines your product or services to your audience.  We recommend placing a great deal of time and effort into creating a logo.  The reasons are: Consistency, Brand Equity, and Saving you money!
First, SAVING YOU MONEY: We can't tell you how many times we have had a client come in with a logo, poorly designed by a friend, which has no design principles and breaks most color theory rules.  How can we save you money?  By doing it right the first time.  Las Vegas Printing Experts spend the time to learn about your business goals, your products and services, and the most important "your audience", those who will be reacting to your logo.  By doing it right the first time, you will most likely not have to go back and change your logo – ever.  This means, no more re-branding your entire collection of business cards, forms, brochures, etc. anytime one of your non-designer employees changes your logo.
Next, BRAND EQUITY:  How would you like to have a logo you are proud of and this logo stands the test of time?  Example: Coca-Cola, it has been the same cursive font and red #5 color for more than a hundred years! No changes, that's Brand Equity – generations of people recognize it regardless of where they are!
Finally, CONSISTENCY:  Avoid confusion!  Once again, we have seen clients come in with a logo on their business cards and a different font and logo on their business invoices.  When someone gets their invoice they may get confused and not pay it because it is not consistent branding.  Why would you change your logo if it was done correctly the first time?
When having someone design your logo you should request a CD-ROM with the following:
Adobe Illustrator file (.ai) of the finished, outlined logo. (This is important if you ever want to make a large banner or advertise on an outdoor billboard.)
JPEG of your logo with a white and black background (from time to time you will want to pass your logo on to other companies for a website link, or use it for a signature on your email.)
EPS file of your logo (When advertising on TV, Print, Web, etc – they will ask for it)
Having these essential items will help you in the future when you move to create outdoor billboards, print and TV campaigns.